Ethereum Blockchain price finally hit bottom. Now what?
Good point Dave, Maybe we should label our paragraphs for better presentation?
Statements…
The last drop from BTC's previous bubble pop took 14 months to bottom out before it ranged sideways for a few months.
We just started month 14 of this latest bubble pop. In fact each of the last 7 months we have closed lower than its opening. Pretty impressive run down.
Conjecture
Ultimately there needs to be enough buyer appetite for BTC to get going again, that of course can be created by various means,
eg manipulation/Tether/Fraud/ETF/price/Fed,
Intentions
I will be looking for signs of the next major bull run at the start of 2020 (if indeed we are going to get one)
Hopium/Belief/Prayers
Maybe 2022 will be a golden dream year to sell ?
Quite like this comparison, see the Tech stocks bubble… 
One thing I've observed previously is with each bubble, the "pop" is longer in duration, as is the next rise.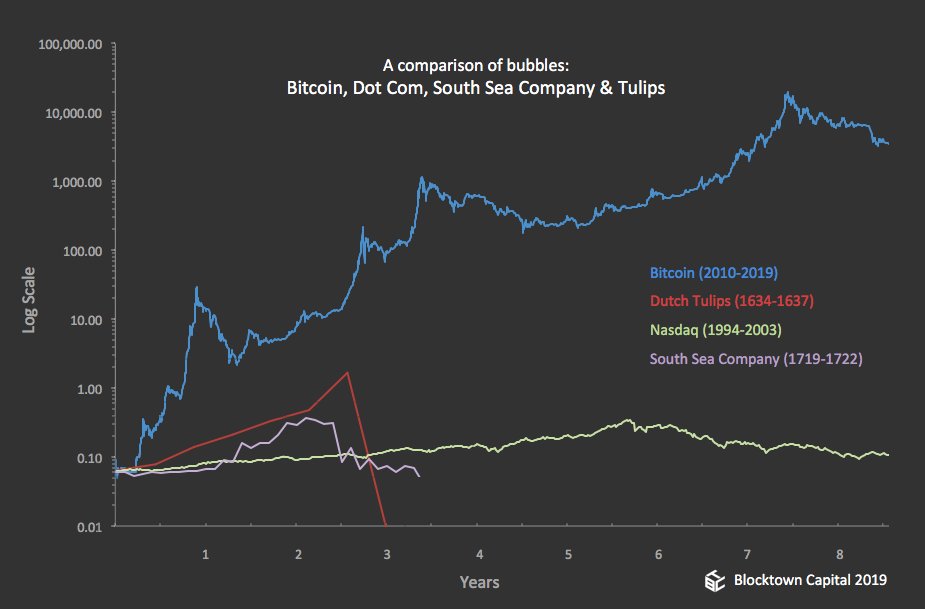 Warning – lots of conjecture and belief sentiment in here…
I'm wondering if $3k area will be tested again this week?
That could put ETH back towards $90 (or lower).
The good news for long term BTC maximalists is that if Price Action keeps closely following late 2014 bubble burst then after a small DCB, we could finally see a huge capitulation event before the end of April which could mark the end of the Bear market and the start of ranging sideways (great for trading) for probably the majority of the year.
the last bubble pop finally ended at approx 88% retracement from the ATH, IMHO this time round that would equate to a massive wick to $2.5k, tempted to layer some "fire and forget" buy orders around there. 
For when things get really crazy?
Sorry for the delayed response but I don't check in often now that I'm retired.  I now travel a lot. New_life seems to take issue with anything I say as he looks angry.  He's a (failed?) trader that I advised against trying trade these digital properties.  He lives and breathes trading, and I don't. I never cared to, I study the technologies, and I was advising looking into the fascinating technology back in 2013 and onward.  To be sure, go over my writings very carefully and you will see that I write about what I was doing and found interesting and always reminded people that I'm not a financial advisor or giving financial advice. But found people were interested to know what I was doing and what I was studying. Perhaps he took my musing too far and blames me? He seems irrational to me but I'll let you decide for yourself. 
I've done well enough to retire 20 years early and see the world because of my early exposure and count myself as very, very lucky.
Just a little explanation, eth hit a low of about $80. As Dave has explained for me very accurately, I'm not great at calling lows, but I'm pretty good at calling highs. But I was around when bitcoin hit its high in late 2013 and published articles the full year of 2014 as I watched all the copy-cat coins fall with bitcoin and many of them died (deadcoins.com). The bottom bounced around from its high for about 18 months.  The pattern of this time-frame is reasonably regularly. So my completely non-professional opinion, which could be wrong, do your research, (all the regular disclaimers) but going from the high of about 1400 to a low of around 80 is over 90% decrease which is familiar from 2010 forward in digital assets.  So 18 months from the high would be about JuneJuly of this year.  
I don't know why the science of this, and perhaps it won't this time, but I wouldn't be surprised if it bounces around $100 to $150 until summer.  But we also could be looking at the Gartner Hype Cycle; we could be looking at the "Slope of Enlightenment" stretch of 5 to 10 years as did the Internet and most well established high technology.
I suspect 90%+ of the 'copy cat coins' using smart contract technology started by Ethereum will fail as did the Bitcoin copy-cat coins in 2014.  Of course, history doesn't repeat, but it often rhymes. (Mark Twain).
So as I make these occasional posts with no profit motive and for the fun of it just so these great people have a sounding board, you'll have to take my words with a grain of salt. I'm a 'perma-bull.' Although I've been lucky enough to retire, I also lost more in terms of 'could be dollars" than most readers here will likely make in a lifetime last year by holding too long. I accept that as part of this new asset class. As my time horizon is five to ten years still to come, everything in-between is just part of the ride I'll get to tell my grandkids about someday.
Dave is pretty astute to realize that no longer caring about it is the exact time that we contrarians recognize is the right time to start paying attention. That is not me telling you to BUY BUY BUY, keep an eye on it.  Another big up tonight but I didn't write here now because of a significant upswing; I just happened to be home today and tuned in to see the price as I hadn't been watching it that closely since my last post here six weeks ago.
At some point, my phone will be ringing off the hook again and hearing from friends and family I hadn't heard from in decades, then still- that will be the time to sell.  Not very sophisticated, that is my chart and triangles. It comes from wisdom earned not charts and numbers so you can take that for what its worth.
As far as sending bitcoin over ham radio – since it is digital/binary and it has been sent via text message – morse code and could be done by smoke signals if needed.  I've read some very ingenious ways including sending it via morse code over railroad tracks and a hammer.  Of course, at some point, the results will need to be added on the chain via the internet as would all of the other digital assets.
Will this fork generate some free coins?  If so,when will they be delivered?  I kept some ETH in a hardware wallet and still haven't seen any.
Yes, they're not exactly pleasant…  
Recent picture in Paris… (Could be faked)
Skipr – other than it inspiring "watchers" to buy ETH @ $150 ($4800/32) for "white blood cells", did you not distill any useful insights from the "techie" human body analogy above? Or if you prefer analagies, if that's the US spelling (jk). But I'll stop advising you to try and make any meaningful sense from that monologue in case I start sounding irrational…