Climate Change: Its Not About Climate
count placeholder6

Climate Change: Its Not About Climate
DF, Thanks for your narrative, this is mine.
Generally the worlds civilization for at least the past several hundred years have been successful with one motto.  Growth is good to solve any issue, and technology will solve any resulting problem caused by growth.
Since the start of the industrial age, the world has compounded growth @ around 3% for three or four hundred years, at this point.   At this point this narrative is the water that we swim in.  It is virtually impossible to step away from even if you suspect or even know this to be true.
This continued growth is non negotiable in our minds.  The elites believe this to their core.  They built this wealth (in their minds) and expect to keep it forever, and the best way to do this is to craft whatever laws, push taxation downward, and whatever else they can think of to keep the system growing and progressing technologically.
Now, for the first time they are on the beginning stages of executing on the understanding that Peak Oil, Peak Minerals and Climate change are constricting growth going forward.  So, they increase the pressure on siphoning the wealth from the lower classed towards themselves.  See tax cuts for corps and wealthy, zero effective tax rate for the largest players, mass voter suppression to take away the masses power to redistribute wealth, move home owners to renters via easy money @ the top, going to Mars to jump-start growth again … and so on.
Now Covid comes along.  Covid = real, but covid currently exists as a  moderate virus compared to the extreme of what is possible.   Because of modern genetic sequencing and the past decade developing mRNA vaccines, big pharma is reportedly able to have a workable vaccine within a day or two of getting a sample of C19.  It simply needs 6-9 months of testing for efficacy and safety and then it will be the next big growth oppty for the medical sector.  The western govt bureaucracies are well coupled with large companies, so the decision is easy to completely focus the vaccine, ignoring other options.  After all, how wrong could it go with the expectation of a vac by the end of the year?  Plus, the thinking goes, it would just confuse the population to have several other probably less powerful options anyway. Yay, growth for pharma continues …
The necessary global slowdown due to covid is a good excuse for the largest companies to continuing to hoover up the smaller, weaker players.   Growth is good, tech is good, the digital economy is good.   Retooling the economy into the green economy is good.   All are inflection points to make more money and even tell ones-self that you are the good guy, helping with energy transition and helping to solving the climate crisis.  Its even more convincing if you really believe you are doing good and solving problems.  For the most part they really do believe that they are doing gods work.
Ultimately all the changes will be co-opted to try and keep growing and accumulating.  This will continue until it cant any more.
But hey, there is probably lots of money to be made trading it!
Wed, Apr 07, 2021 - 09:34pm

#32

count placeholder5

could be – but
jturbo-
Yeah, that's definitely a "more benign" narrative.  Agree about growth, peak resources as limitations.   Agree that Oligarchs can still grow in a peaking environment, at least for a time, if they progressively transfer all the middle class wealth to themselves.  Which the lockdowns did nicely.
Issue:
I still have a "carbon" problem.
Oligarchs completely control The Empire (for now, anyways), and they have shown themselves to be utterly ruthless.  (See: "No Treatments For You" = killing millions of grandmas throughout the Empire, especially black & brown grandmas in the higher latitudes).  Why on earth are they buddies with Xi, allowing him to make new coal plants, if "carbon" is really a world limiting factor?
If Oligarchs wanted to flip the switch, they could turn China off in about year.  And grow.  All those industries – the great sucking sound – removed back to the countries of origin.
"You gotta stop those carbon-emitting coal plants…or else we pull the plug."
And yet they don't do this.  The utterly ruthless Oligarchs, clearly willing to kill millions of grandmas, using their sociopathic policy of No Treatments For You.  Yet they can't restrain Xi.
So why are they allowing Xi to ramp up carbon emissions?  If climate is real, and a near-term danger?  Do we all agree that the Oligarchs definitely have the power to stop Xi if they really wanted to?  With the control they have right now over Empire, they just flip the switch, and turn China off.
I'll keep on presenting the evidence for my narrative as it shows up.
Hmm.  An idea for a site model: competing narratives, "sticky pages", that stay at the top of frame in a conversation, and can be updated as new evidence accumulates.   A notification is made when the narrative is modified, with the new text redlined.
Kind of like a living, crowd-sourced wiki page with redlines and a discussion group!
[Edit: its really more grandpa being killed, not grandma (COVID targeting men, as it does), but everyone loves grandma so it was more evocative for me to use her as the template.  But technically, Oligarchs are really mostly killing grandpa.]
count placeholder13

Why Not Try Science?
Netlej wrote:

First of all AGW is not a belief system any more than gravity is. If you disagree see if you can jump off a building and stop believing in gravity, let me know how that goes. Global Warming due to CO2 is a scientific fact, has been studied for over 100 years, serious warnings have been posted for more than 50 years, it will not go away if you don't "believe" in it.
So, in your mind the "science" is settled on something as complicated as the earth's atmosphere. (Please note that weather forecasters can't even get the forecast right the next day, let alone in the far, far future.) It must not bother you that all the dire predictions concerning catastrophic climate outcomes in the past have come and gone … only to be replaced with more dire warnings. The warnings have a common theme of catastrophe occurring around a dozen years in the future. That's close enough to cause worry, but removed enough to be forgotten when it doesn't happen. Here's a warning from 1989 that illustrates my point. The article also cited that the most conservative estimates of temperature 30 years out (2019) would be 1 to 7 degrees warmer. Broad ranges like that are worthless. You could possibly argue that we are 1°F warmer, but that is at the lower end of the mostest conservative estimates. The Chicken Littles who were still considered conservative predicted 7° warming and missed the boat entirely. Imagine what less conservative forecasts predicted.
U.N. Predicts Disaster if Global Warming Not Checked (apnews.com)

UNITED NATIONS (AP) _ A senior U.N. environmental official says entire nations could be wiped off the face of the Earth by rising sea levels if the global warming trend is not reversed by the year 2000.

Coastal flooding and crop failures would create an exodus of ″eco- refugees,′ ′ threatening political chaos, said Noel Brown, director of the New York office of the U.N. Environment Program, or UNEP.

He said governments have a 10-year window of opportunity to solve the greenhouse effect before it goes beyond human control.

<snip>

The most conservative scientific estimate that the Earth's temperature will rise 1 to 7 degrees in the next 30 years, said Brown.
There are many more examples. Remember when Al Gore said the Arctic would be ice-free by the mid 2010 decade? He made that prediction about a dozen years prior. Hmmm. Did that happen? I must have missed it completely.
Have you stepped outside the foyer of the Church of AGW to see what's going on at the Intergovernmental Panel on Climate Change (IPCC)? They have assessment reports that come out about twice each decade. The goal is to assess the predictive accuracy of existing models. As a result of these investigations, they modify the parameters so that future models will be more accurate. That is laudable.
The last assessment report (AR5) was published in 2014. The next one (AR6) is due in 2022; however, there are hints that it will be delayed due to Covid-19. The big takeaway from AR5 was that the models using CO2 consistently predicted too much warmth. As a result, they modified their parameters in their Coupled Model Intercomparison Project (now CMIP6) to include solar forcing. Prior to this change, the sun's only contribution to earth's warming was "total solar irradiance" (TSI.) That varied by about 0.1% over the course of the ~11 year solar cycle; therefore, they concluded that the sun's influence was essentially a constant and could be safely neglected.
By using solar forcing rather than just TSI, they're understanding that the sun is a dynamic system that emits radiation across the frequency spectrum. In addition, the solar magnetosphere expands during the peak of the solar cycle (when sunspots are most prevalent) and contracts at solar minima. The magnetosphere deflects charged cosmic rays. (Cosmic rays are detrital from supernova stars. These small particles are mostly protons or electrons that were plasma before the star exploded. They travel at varying speeds approaching the speed of light. Although small, they are highly energetic.) Cosmic rays have been found to seed clouds, cause Nitrogen14 to become Carbon14, can cause DNA damage, and segregate water molecules from siliceous magma deep within the mantle. In fact, cosmic rays are passing through your body right now.
All the papers I've seen that use the CMIP6 protocol completely have placed the majority of the onus for the recent warming on solar forcing. Carbon dioxide concentrations are not the primary cause. Some new papers that still use CMIP5 protocols still claim CO2 as the primary culprit. As the CMIP6 protocol has been available for ~5 years, papers still using the antiquated protocols should not be acceptable.
During the 20th century while humans were burning fossil fuels at exponentially increasing rates, the sun was very active. Astronomers christened this period "The Modern Maximum." It has been slowly diminishing since 1980. We just finished Solar Cycle 24 (SC24) and are now beginning SC25. SC25 is forecast to be similar in magnitude to SC24. So, why aren't we seeing cooling setting in more readily? There's a lag of about a decade or two. Thermal capacitance needs to be overtaken. Think about the warmest part of a calm, sunny day. Does it happen when the sun is directly overhead at noon … or later in the afternoon? Also, the warmest day of the year rarely falls on summer solstice, but generally later in the summer due to the same phenomenon.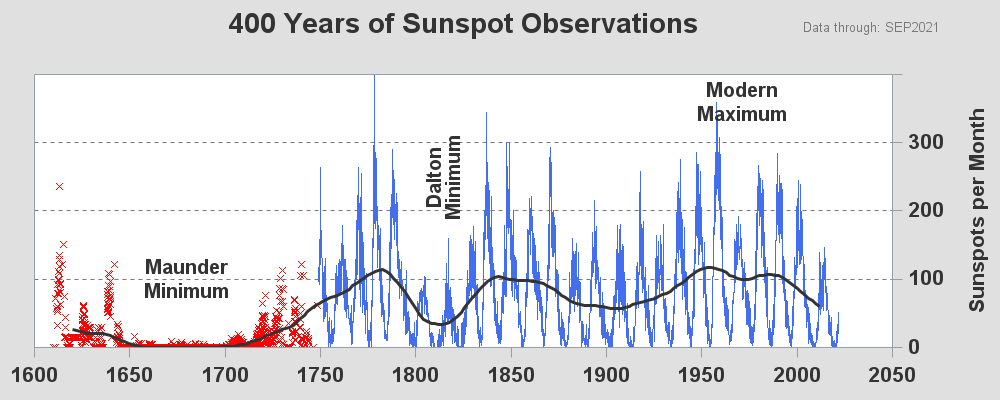 Based on the best science available, CO2 is not the primary cause of the warming we've experienced. What's more, a weakening sun will likely bring on longer and colder winters.
Klaus Schwab, Bill Gates, and the WEF controllers should already know this. It isn't a secret. Yet, they keep pushing the AGW story. Why? They're also trying to vaccinate the world using experimental mRNA vaccines. Shouldn't they know that there are effective prophylaxes and therapeutics available to combat this disease? They're trying to be keep it a secret, but it really isn't. Do you trust them that the vaccines are our only hope? If not, why do you trust them about climate change?
Grover
Thu, Apr 08, 2021 - 12:04am

#34

count placeholder9

whoa
Thanks Grover.  I didn't know any of that.  Great summary.  I like the chart too.
Armstrong has noted that world temperature goes in cycles – mini ice ages that happen which cause plagues, famines, and economic collapses – followed by warming periods which cause expansions, etc.
Cold = economic depressions.  And, as we now know, illness, due to widespread lack of vitamin D.
Based on the best science available, CO2 is not the primary cause of the warming we've experienced. What's more, a weakening sun will likely bring on longer and colder winters.
Heh.  "My narrative" would suggest that the Oligarchs do indeed know about this, and they want us to de-fossilize us – on an emergency basis, due to the rapidly shrinking time window – in advance of this event in order to maximize casualties during the upcoming solar minimum.
Because: depopulation.
And that social control system they are slotting into place will be key for them to maintain control during the upcoming Time O Cold.
And of course, they can't let the general public know about the vitamin D issues relating cold climate to illness leading up to this time.  That would be bad.
If you get the sense I think these Oligarchs are utter sociopaths, you'd be right.  What sort of person could set out to deliberately suppress treatments for Grandma and Grandpa for an entire population?  We must just be less than cattle to them.  That's all I can figure.
But there aren't many of them.  We just need to recognize what they're doing.  And then unify.
Status Silver Member (Offline)

Joined: Mar 12 2020

Posts: 187

count placeholder2

Climate Change: Its Not About Climate
There's not much money/power to be gained forecasting "Good Times Ahead!"
Grover, that was fantastic. Thanks. Have a look at the work of Valentina Zarkova on solar cycles and the coming solar minimum.
It is interesting to research and study human behavior as it relates to warming and cooling cycles. For instance, the witch trials which seemed to spontaneously pop up and spread all over Europe before coming to America are curiously aligned with the solar minimum and the cooling cycle [ mini-ice age ] of the middle ages.
As the climate changed back in the middle ages humans blamed each other. Crops froze in the fields in June, winters became harsh, people starved….. there must be SOMEONE to blame for it. Despite our smart phones, automobiles, and television sets, at our core, human nature remains exactly as it was thousands of years ago.
The old saying 'when man looks into the abyss, he sees himself staring back at him', meaning we project ourselves into everything we perceive. Anthropocentrism is hardwired into our nature.
So the last time the climate changed we blamed each other, created a scapegoat based on the political/religious/cultural norms of the time and persecuted them. We created a symbolic manifestation of the problem, one that was within our reach, and destroyed it.
In the next climate crisis, who will wear the horns? Will it be evil 'capitalists'? White males? Trump supporters? Private property? Christianity? 'Climate deniers'? The 'unvaxxed'? YOU? ME? Your children?
As always history is just human nature playing itself out over and over and over. The uniforms change, the actors switch places, but the same story goes on and on.
Thu, Apr 08, 2021 - 05:51am

#37

count placeholder2

profound
brushhog-
So the last time the climate changed we blamed each other, created a scapegoat based on the political/religious/cultural norms of the time and persecuted them. We created a symbolic manifestation of the problem, one that was within our reach, and destroyed it.

As always history is just human nature playing itself out over and over and over. The uniforms change, the actors switch places, but the same story goes on and on.
My goodness!  That's awfully profound for an early morning post.  🙂
The gang in charge at that time were wise enough to blame the witches.  If it weren't for the witch scapegoats, the people might have actually started holding THEM responsible.  Or maybe even started to abandon the Catholic Church!
And neither of those two outcomes would have been good at all.
For the gang in charge back then, I mean.
Wait.  When did that Martin Luther thing happen?  Just curious if it lines up at all.
I've been searching for "the ticking clock" for almost a year now.  I thought maybe it was about peak oil.  But – just maybe – the ticking clock is about "the approaching solar minimum" instead.  Armstrong said this event always leads to massive changes.
And all it takes to figure this stuff out is some math, and the historical record.
Yow.  Deflationary.  On steroids.
count placeholder0

Plus it absorbs only 30% of human carbon emissions.
AP, can you give us a reference for that assertion?  My problem is the weight of global water may be tens of thousands of times the weight of the thin layer of atmosphere we have. So wouldn't it be logical that water could accept more?
Thanks for your discussion of what the oceanic affects may be.
count placeholder1

Climate Change: Its Not About Climate
In my own life, I can convince virtually no one that really bad times are likely ahead.
PP is the smallest of backwaters, and we cant even agree or quantify what is really coming.   This thread is a representation of of what im talking about, and we are way more in tune with the negative stuff than 99% of everyone else.
The rest of the world thinks peak negativity is worrying about satan shoes or mis-identifying pronouns.
count placeholder1

Climate Change: Its Not About Climate