Book Review: The Mysterious Collapse of World Trade Center 7
Fri, Sep 16, 2016 - 12:11am

#231

Status Bronze Member (Offline)

Joined: Nov 01 2009

Posts: 215

count placeholder1

thats not mocking
[quote=Yoxa]
[quote] melted steel [/quote]
An ordinary wax candle has zones within the flame where the temperatures are above the melting point of steel. But some folks insist that an inferno covering several floors couldn't possibly have had anything comparable.
That's a huge limiting belief and it's amusing and sad both at once that someone who asserts that sees fit to mock anyone else about limiting beliefs!
[/quote]
but how did the conspirators smuggle in the candles and set off the controlled ignition? Or did Larry "pull it" Silverstein's birthday cake burn out of control?
Thats mocking
which is about all that s left in conversing with you and Doug as your predetermined position and denial is so strong it is matched only by your limited capacity for comprehension of physics, it is pointless to rehash the science with people that both can't and are unwilling to understand it.
mememonkey
Fri, Sep 16, 2016 - 12:12am

#232

Status Bronze Member (Offline)

Joined: Oct 31 2017

Posts: 1583

count placeholder0

Do we really have to do this dance again ?
Yoxa,
These folks that insist that office furniture fueled fires couldn't have melted structural steel are highly credentialed in the actual scientific processes that take place in an actual building fire, such as the study T2H has reported on above. This is not some magical thinking "if – then" fantasy.The people who are stating their professional opinions about the possibility that steel was melted by office fires on 9/11 in my humble opinion are correct, even though I don't have the requisite qualifications to speak with authority, I'm guessing you don't either. In that case my lifetime experiences working with steel lead me to agree with Chris and Jim H.
The ultimate unexplained event on 9/11 was the fact that 3 steel and concrete buildings were completely destroyed and they are the only buildings of that construction type that have EVER fallen due to fire. I find that to be the smoking gun evidence that these buildings were not brought down by fire alone as you and NIST seem to insist on, apparently using tortured leaps of faith, assumptions and obviously flawed modeling.
A limiting belief is just that, a belief. It seems to me that the folks speaking about actual physical possibilities here are speaking from knowledge of physics and mechanics where beliefs don't matter.
Doug,
I share your horror that the people who planned and executed 9/11 were truly psychopathic in their callous disregard for the lives of their fellow humans. The thing that I struggled with in coming to terms with the facts of this event as I see them is that, to believe that this was done by Americans to their countrymen is a completely disgusting obscenity that took me 6 months to finally accept. IMO that is the only conclusion that aligns with the limited number of facts not easily disputed. Also, historically this would not be the only barbaric event ever perpetrated by national leaders to elicit a desired effect in service to a political end.
Tim.
Fri, Sep 16, 2016 - 01:00am

#234

Status Member (Offline)

Joined: Sep 09 2009

Posts: 17

count placeholder0

Beliefs versus facts
One of the main roadblocks to the truth coming out in the mainstream is that something called cognitive dissonance kicks in when the facts of a situation come into direct conflict with our belief system or our "world view". It is very very important to understand this when looking into 9/11. I strongly encourage anyone seriously looking into 9/11 to view this short video about cognitive dissonance as a starting point. https://www.youtube.com/watch?v=8zP0FU46PcE
While it is true that parts of candle flame can get about the melting point of some steel, the reality is that the heat generated by an office fire or even a jet fuel fire does not get hot enough for long enough to melt steel. It can certainly heat it to the point of weakening, but not to the point of melting. This is why fireplace grates don't melt and why the burner grills on a gas stove don't melt. Even the 9/11 Commission Report, and the NIST report, acknowledge that the fires did not get hot enough to melt steel.
This is also why, prior to 9/11 no steel framed high rise ever had demonstrated melting of the steel structure. There have been "towering infernos" much more severe than any any of the fires on 9/11 and some these fires where heat was sustained for many hours longer than on 9/11. The steel did indeed weaken and twist but it did not melt. More information about this can be found here http://911debunkers.blogspot.ca/2011/06/other-collapses-in-perspective_04.html
The only logical explanation for the amount of melted steel that was encountered is that there had to be a heat source other than a conventional office fire. I would encourage you to read this scientific paper about samples of 9/11 dust. http://www.d.umn.edu/~jfetzer/Why3Dec13.pdf It was written by a physicist named Dr. Steven E. Jones. What it shows is that there were two things in every dust sample he analyzed that should not have been there. 1) Iron micro-spheres that had the exact chemical signature of the residue that is left over after a thermite reaction. 2) Tiny flakes of unreacted military grade super-thermite. This was not regular thermite, but rather thermite created is a laboratory capable of nano-engineering.
Another very important piece of solid science that is a "must watch" video that was put together by David Chandler. https://www.youtube.com/watch?v=LkqLnN2HPiQ The video proves using science and careful observation that WTC Building 7 was collapsing at free fall rates for over 2.25 seconds. While this may seem unimportant to a lay person, anyone experienced in structural engineering or physics knows that it is impossible for a building to fall at free-fall rates as the forty thousand tons of structural steel in the building provide as least some resistance to the collapse. For a building to fall at free-fall rates something, aka thermite or explosives, has to be moving all of the steel that would offer resistance out of the way. This is yet another smoking gun that demonstrates controlled demolition.
After over 1,000 hours of research that I have done, I am extremely confident that all three WTC towers were brought down by controlled demolition. What can't be proven scientifically is who committed the crime. Barring a "proper and unbiased investigation" we may never know for sure, but one has to consider who had access to the buildings and all the other details of the events of that day. Taken as a whole, the complete body of evidence is strongly indicative that elements of the US government and military had to have been involved in the collapses.
I hope this information is helpful. The "why" is much too long and complicated for me to get into here, but I will say that most of that information has already been posted on this website by other concerned and knowledgeable members. With a little effort you will find the answers you seek.
[quote] office furniture fueled fires [/quote]
A lot more was burning than just furniture.
[quote] highly credentialed [/quote]
There's many highly credentialed people amongst those you disbelieve, too..
Credentials are lovely to have but they're not what proves the truth of a thing,
[quote] obscenity that took me 6 months to finally accept [/quote]
How can you hold that belief and not feel compelled to flee the country?
——————–
I can't figure out how to include a video but this video is worth a look for anyone who wonders about the description "furniture fueled".
It shows the WTC 7 fire from a different direction than the usual footage that the conspiracy theorists … er, pardon me …. the alternative narrative believers … keep flogging around here.
[quote] This is why fireplace grates don't melt [/quote]
I beg to differ.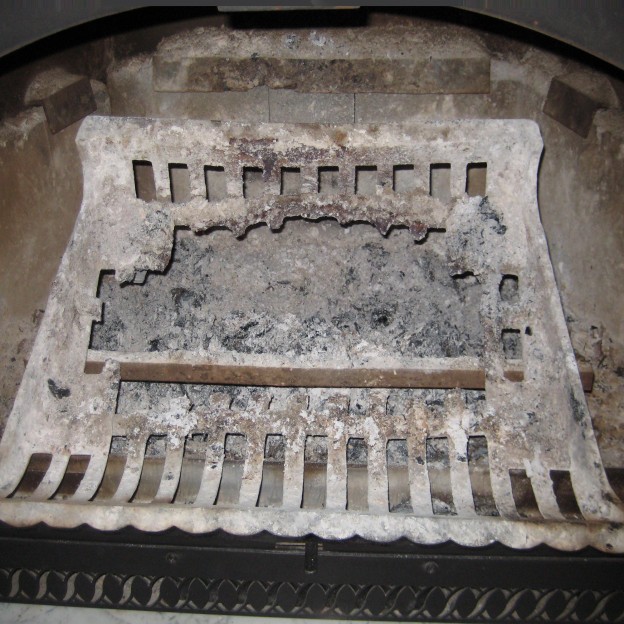 Source: http://www.fireplacemall.com/blog/2015/01/fireplace-grate-melt/
SaveSave
SaveSave
Wow….
[quote=Doug]
[quote=davefairtex]
Doug-
So there is a lot of stuff that doesn't get published in Journals because the journals are too wedded to the mainstream to take the risk.
Take the new propulsion system currently being tested that apparently violates Newton's 3rd law. It took 15 years for people to start taking the guy seriously. China grabbed it up before we did here in the US. If it works, it could take us to Mars. No journal would touch the guy for a very long time. Now he's in popular mechanics. Journals are followers, not leaders.
I believe he is credible. His project doesn't sound like a fundamentally difficult task, since the software does the hard bits. He doesn't need to design the skyscraper, or the software package – he just needs to describe the already-designed skyscraper to the software package, and then create a fire and see what happens to the building.
The software is hard to build, and a skyscraper is hard to design. Describing something already designed to a computer program that's already in common use – that's a much less difficult task.
[/quote]
Well, when and if he publishes this research we'll see. In the meantime, ironic you mentioned Popular Mechanics. You may or may not have noticed in my previous posts the mention of Debunking 9/11 Myths: Why Conspiracy Theories Can't Stand Up To The Facts, published by Popular Mechanics. It is the definitive debunking of the 9/11 conspiracists' narratives (and there are many). It was most recently updated in 2011. I don't have a link readily at hand but you can find it on Amazon.com. It is well documented.
I will note that 9/11 was not ignored by journals. There are many peer reviewed studies that almost exclusively agree with the NIST report, which itself was peer reviewed. I don't think they all just buckled to peer pressure. And, no major professional organization defends any of the many conspiracy theories.
The forward was written by James B. Meigs who was the editor of PM at the time (as far as I know still is) who goes into some detail about the nonsense he and his staff had to put up with after the first version was published in the magazine. It's quite entertaining.
[/quote]
Fri, Sep 16, 2016 - 01:56am

#238

Status Platinum Member (Offline)

Joined: Jun 07 2007

Posts: 6779

count placeholder0

Lack of understanding is profound…
Yoxa,
I've held off on commenting on your really poor grasp of the basics of science, but I really cannot let you continue deflecting this thread (again) with what must be direct attempts at misdirection because you do not otherwise come off elsewhere in other conversations with such ignorance.
You do realize that the fireplace grate you have posted is cast iron, right?
And you did read the very source you lifted that image from and saw that it said this, right?
What Causes Fireplace Grate Melt Down? Heat will oxidize (rust) any metal made with iron. That includes cast iron and steel. Over time, heating your grate again and again will cause the rusting process to thin the metal to the point that it bends or even severs
that's right…over time, and with ashes cast iron rusts away. Not melt. Rust.
You put a long-term process (rusting) happening to cast iron and used that as 'proof' of melting.
Nobody is that sloppy/ignorant…right? Well, either you are, or you are being deliberately obtuse to deflect a conversation away from an area you find uncomfortable.
Further your candle "theory" is so uncomfortably ignorant that I hardly know where to begin, but it's not worthy of this site and you never responded to the numerous people who engaged you on that topic logically and rationally. Yet you dragged that drowned cat back up for another go.
Science please. If we're discussing steel, please stick to steel. Don't ever confuse rusting with melting, or cast iron with structural steel.
And never mistake the idealized optimum burn temperature of something with complete oxygenation with the temperature of a dark, smoky fire (especially if NIST and FEMA both already concluded the fires never got above 1000C).
The mistakes you are making are profound enough that I am going to ask you to stop posting on this thread because the low-quality of your contributions. If you are being deliberately misleading for some other set of reasons then that's just worse.
If you continue you will be banned.
[quote] what must be direct attempts at misdirection [/quote]
You presume too much.
I just sometimes can't resist commenting on things that don't make sense to me.
[quote] If you continue you will be banned. [/quote]
Okay, got it.
I'll ask YOU, Chris … start a different thread for it if you don't think it fits here … how can you believe all this stuff and not feel compelled to flee the country?
Fri, Sep 16, 2016 - 02:36am

#240

Status Bronze Member (Offline)

Joined: Oct 31 2017

Posts: 1583

count placeholder0

OK I'll Bite
Yoxa,
In addition to furniture –
I'm guessing maybe there was some petroleum based carpet with a smattering of nanothermite
Credentials –
Sorry, It was Doug that requires over the top, peer reviewed studies by gods of the cream of the academically superior gatekeepers of politically acceptable knowledge to actually believe a disputed claim. my bad !
Obscenity –
I feel compelled to stay and do what I can to promote the version of the story that will result in the perps getting what they richly deserve. In the process maybe some sanity will be restored.
Tim.