Bitcoin Bloodbath
count placeholder

davefairtex wrote:So in
davefairtex wrote:
So in this new definition, HODL really means "buy low, sell high."  Truly a new paradigm. 
*in his best yoda voice*
Sense sarcasm, I do.
On another note, I specifically posted back last November (2017) on my Facebook feed with some general advice on investing as it related to cryptocurrency, and was fleeced by the Bitcoin Fanboi Club among my Facebook "friends;" fanbois who were strangely silent when I posted again, a year later, essentially saying "I told you so."
Funny how the dogmatic adherents to a faith are never as chatty or confident when their god fails them. I note the absence of certain voices on this topic even here on PP. Strange, that.
That's not a new definition of HODL.
HODL still means exactly what it always has.
I shared the graphic here back in March, IIRC it's from an experienced Technical Analyst trader that was advising "when to HODL".
ie choose a good entry price based on TA (or even fundamentals for more sound markets) and then ride up ignoring short term noise until the Price Action tells you otherwise by breaking the uptrend.  It's akin to staying in the stock markets for the last couple of years until this Summer/Autumn.  Then wait for another good entry point at the start of the next bounce/uptrend.
Same applies to the Gold and Silver bubbles we've had this last decade.
"The trend is your friend, until the end."
"Price is what you pay, value is what you get"
Again the same tongue in cheek humour goes in reverse, lots of FOMO shorts right now, the savage relief bounce wicks on many unregulated exchanges will vapourise their positions…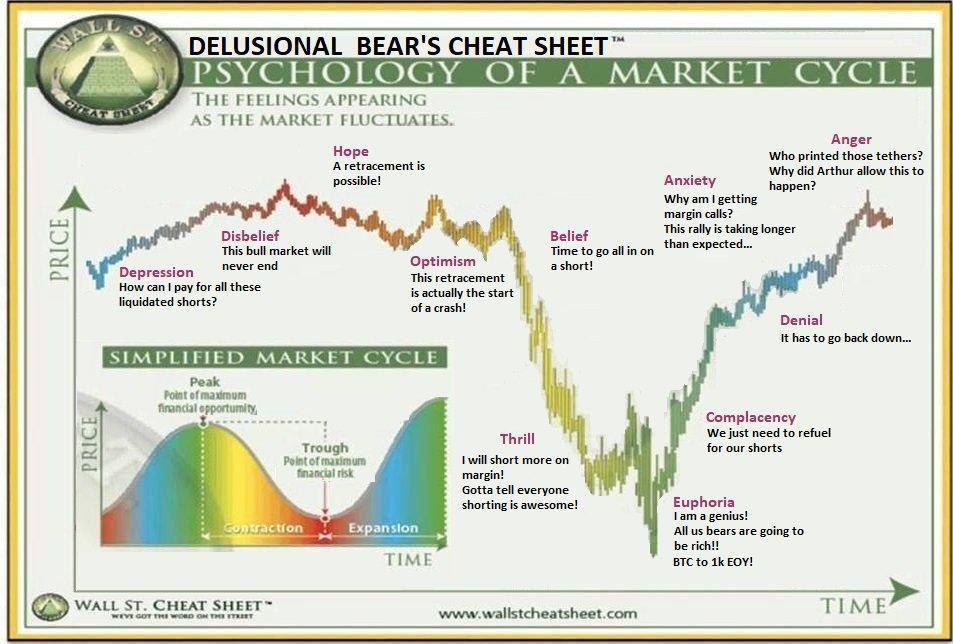 Status Member (Offline)

Joined: Sep 03 2008

Posts: 2134

count placeholder

meaning for HODL
Yeah, so HODL, to me, just meant "hold regardless of anything, bitcoin is going to infinity."
Now, after the 83% correction, HODL has become "well of course you should sell once the trend changes."
Perhaps HODL is in the eye of the beholder.
Does anyone else here think that HODL meant "sell the top?"  This is the very first time I'm hearing this particular definition.  I mean, it makes sense to me, but that's not how I saw the term being used.
A true HODLer will have ridden ETH from $50, to $1400, back down to $80.  Quite the ride.  That's still a 60% gain, which is better than a poke in the eye to be sure.
And who knows.  ETH may go to $20k any day now.
HODL!
Good grief, Im obviously not explaining this well… 🙂
The point was that the TA Trader graphic (that I shared back in March, 3rd time Ive said that) was saying the Crypto believers were naive in their belief of HODL.
The chart graphic is a sideways tickle at that overly simplistic investment "strategy" ie blindly buy at whatever price your Crypto leader tells you to and then hold on for dear life regardless until an ATH and there's no more BTC to mine and it's a $1MM+
So the original Crypto definition of HODL has not changed, the graphic was poking fun at the Crypto believers definition and suggesting a trading strategy instead. Two separate things no need to conflate them.
Apologies if my attempt at humour misfired with some here, it's always a poorly constructed gag if you have to explain it.
ps I see that relief bounce from the weekly close of 3225 to 3500 would of been painful for the FOMO shorts with a poor Risk Management strategy
Sat, Dec 08, 2018 - 03:42am

#26

Status Member (Offline)

Joined: Sep 03 2008

Posts: 2134

count placeholder

very good
Haha ok very good then.  I think one might consider bracketing humor-intended items in bitcoin-land with some sort of warning around them, especially for the feeble-minded people like me.
Or maybe I was just humor-impaired yesterday.  🙂
We will forever have these issues until a sarcasm font is created. I'm also in favor of a snarky font, tongue-in-cheek font, and you've-got-to-be-fucking-kidding-me font.
/sarcasm font: I dream of a better font world.
And between continents…. 🙂
DS, lovin your font idea, gave me a smile, nice one.
Tom Lee (who had originally predicted $25k by EOY) is tired of making BTC forecasts..
Funny that…
Even as recently as Oct he was saying $25k by EOY was on the table, sobering lesson that a so called expert taking peoples money can be so wrong.  (He previously worked as the chief equity strategist at J.P. Morgan Chase.)
I wonder how his Fundstrat customers are feeling..
Interesting the first article refers to BTC being below the Daily 200MA remains bearish.
However, with BTC @ $3.2k, the weekly 200MA and Monthly 50MA below us are of more interest to me right now…