above-ground strawberry farm
I really love this idea, I am worried about the birds. I don't have
a distraction for them with another fruit tree. I will have to think on what I can do.
Possibly netting.
Love the idea though
Wed, Apr 12, 2017 - 07:03pm

#1

Status Diamond Member (Offline)

Joined: Dec 13 2009

Posts: 1462

count placeholder1

above-ground strawberry farm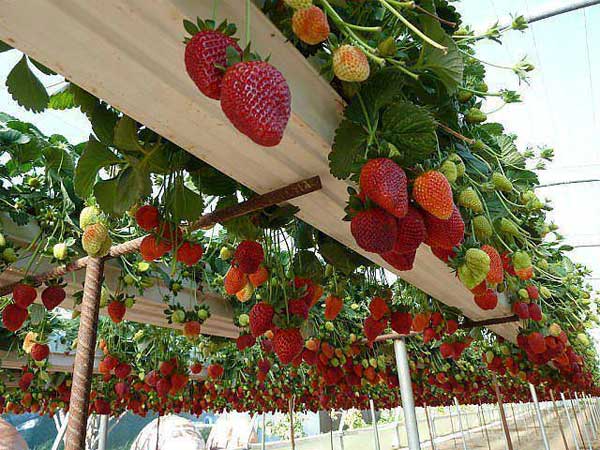 Note: If you're reading this and are not yet a member of Peak Prosperity's Agriculture & Permaculture Group, please consider joining it now. It's where our active community of gardening enthusiasts share information, insights and knowledgable daily discussion to help you succeed in growing your own food. Simply go here and click the "Join Today" button.
This is spectacular – hadn't seen it before.  I note it was posted in 2017 – how has it worked out long term?  Any experience to share?
Wed, May 27, 2020 - 02:54pm

#4

Status Bronze Member (Offline)

Joined: Feb 19 2016

Posts: 327

count placeholder1

above-ground strawberry farm
would need ALOT more water, and alot of added fertility as there is just not enough soil in those tiny troughs to have a living soil environment to provide all that the plants will need, especially with the amount of berries shown.  That would need close to aquaponic inputs
yes – I wonder if that's what it is.  Mind you, people do grow strawberries in the oddest places, like vertical pipes with holes for the plant, etc.  They don't get much soil there either.  Ours are currently sprawling all over some pretty unforgiving ground, and still berrying.  Tough little things.
strawberry garden is beautiful or looking is great thank you.
We like this website we are very happy to watch this article you can also see our articles on our website we have also a website that name is BakingHub
i like this website and happy to this article you can also see our website also have website bakinghub
Viewing 8 posts - 1 through 8 (of 8 total)