Edible Landscaping as a Gray Man Defense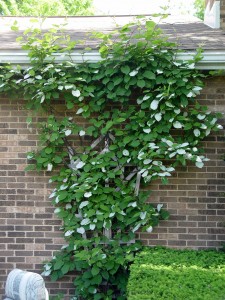 Arctic kiwi vine
The Gray Man concept started out as a self-defense tactic. But it applies to not standing out in other ways. In general, unless you really know and trust your neighbors, one should not expect a kitchen garden to go unmolested in a severe crisis. But they will probably leave your decorative plants alone.
I consider edible landscaping to be a Gray Man defense. Your best bets are perennials, or things that have annual seeds you can save easily and will fit into a flower garden. In a collapse,
Looters might strip your rows of green beans,. but not the "decorative" scarlet runner beans.
Looters might take all of your rows of cabbages and yet totally overlook your "flower garden's" decorative kale, sea kale, or decorative cabbage. I also like dragon a.k.a. dinosaur kale as a green vertical flower-garden accent.
Your apple tree or other fruit tree might be stripped overnight, but those decorative arctic kiwi vines with the variegated leaves covering the fruit will likely be undisturbed.
Depending on your climate blue-flowering rosemary bushes, white flowering cilantro (easy seeds), perennial oregano, thyme, and culinary lavender--and other pretty spices--can be mixed into your landscaping.
A grape arbor is a decorative feature that can provide grapes and edible leaves. Even if fruit gets stripped the vine will be there next year.
Strawberries make a great ground cover. So does mint. 
The blossoms on a food-producing fruit trees look just like ornamental ones, so they will be left alone unless they are fruiting. High-yielding, fast-growing mulberry trees are scruffy-looking and will be similarly ignored The same goes for blueberries, nut trees, beautiful silver-gray artichoke bushes, an oak log with shitake mushroom plugs, fiddlehead ferns, blackberry canes.
One plant at a time, you can transform your property into a quietly productive space.