Blog
Monday Market Watch
Monday, September 29, 2008, 6:41 AM
I am going to be keeping an exceptionally close eye on the markets today, obviously.  It is vitally important that the world respond 'appropriately' to the US bailout plan.
By appropriately, I mean that all paper assets need to go up in price.
At the outset, it's quite the mixed bag.
As expected, the dollar was bought with a vengeance all night long.  Don't open any economic textbooks, especially those that rely on any theories of "supply" and "demand," for an explanation of why this should be.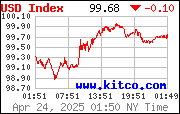 Now, one of the things that you can (usually) take to the bank is that when the dollar is up, gold will be down.  With the dollar up this much I would have expected gold to be down somewhere between $20 and $30.
Nope, didn't happen.  This is very unusual.  I am not quite sure what to make of it yet. For now, I am going to keep an eye on it.
The big surprise to me, though, was what happened to the US stock futures. This is a pretty serious decline.  What 'normally' happens after a big policy decision like this is that at 3am, plus or minus a few minutes, US futures are aggressively bought, assuring a positive open to the US markets.
At this point it is assured that our stock markets are going to open down.  I will be shocked if a lot of sustained buying doesn't appear 'out of somewhere' within the opening 30 minutes.
If it does not, then I have to assume that there's a new game in town and that the bailout plan is DOA as far as being a market rescuing event.
Endorsed Financial Adviser
Looking for a financial adviser who sees the world through a similar lens as we do? Free consultation available.
Learn More »
Read Our New Book
Prosper! is a "how to" guide for living well no matter what the future brings.
Learn More »